Green screens, blue screens -- hoo--ray for scene screens!
By George Margolin, Editor
Back in the ancient times (before Digital Photography) I had the privilege and screaming good fun, to be the Technical Editor Of Popular Photography – a marvelous magazine still at the top of its form. At that time – changing or adding a background to a photograph was left to the art departments of magazines like Life, Look and Time – to do what was called "stripping" by, cutting out parts of the image that you didn't want – and pasting IN the background image that you wanted to add. This required a great deal of skill and even more Talent that only a few artists could provide.
A prime example of this technique was used in a cover of Time Magazine in 1958 when I was working as assistant to Philippe Halsman – perhaps the greatest portrait photographer – EVER. He was famous for THE iconic portrait of Albert Einstein and a HUGE number of Time Magazine Covers.
We were in Boston shooting Flower Drum Song which became a huge Broadway hit and later a movie with the same leading actresses, Myoshi Umeki and Pat Suzuki.
Without going into many details --- our task was to photograph the actresses in an unusual and dramatic way – as you will see from the clipping below – but we shot against a PLAIN Background, because of what Time was planning to do, as you can see below.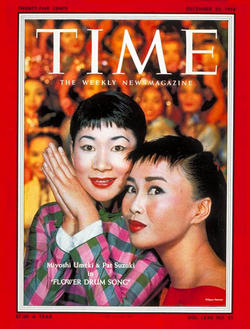 The production people at Time – did a marvelous job of Stripping in the background of an audience that was not in the theater at 4 AM when we did our shoot.
After my years at Popular Photography I joined forces with Sherman Fairchild who had founded many companies including Fairchild Camera, Fairchild Semiconductor and many more than I can mention. But despite being one of the richest and most famous men in the world -- he was a hugely avid Amateur photographer and because of his stature, was able to invite many celebrities and famous actresses to his huge château (Imported stone by stone from France – like the considerably larger San Simeon of William Randolph Hearst) Among them was the very young Sophia Loren.
But his great desire was to be able to provide backgrounds of any place in the world, when shooting some of the many beauties who showed up at his "castle" on weekends.
He had become enamored of a very crude projection system that created ghastly looking backgrounds.
So Sherman asked me to work for him and we started a company called The Front Projection Corporation – where I became Vice President and General Manager and he was the President. There we created the only effective Front Projection Background System which we sold to commercial photographic and portrait studios around the world for advertising and wedding photography. We also created a version that worked for Television which permitted video backgrounds, panning and tilting while keeping the background realistic. These we sold to GE for their Television cameras and to movie studios around the world. This I patented in 1965.
It took the photographic and advertising world by storm including Detroit, where we built giant screens so automobile companies could show their cars almost anywhere in the world – yet all shot in Detroit.
Another pan/tilt version of this system was used by Rank Studios then working on Kubrik's Space Odyssey as well as many James Bond films "Diamonds Are Forever" and "You Only Die Once" as well as Superman and other American films.
The device was fairly large and required a very special and remarkable screen that we had made by 3M – which was like a high resolution, refined version of the retro-reflective Stop signs we all know – where the car's headlights are reflected back to the eyes of the driver. With us, the background image was reflected directly back to the camera position, making it a thousand times brighter (at camera position) that the a pure white screen.
But all this required our specialized equipment because the backgrounds And the foreground -- of any size – had to be shot at the same time superimposed within the camera, whether still, TV or motion picture – at the same Instant.
Below is an example of a Popular Photography story on our Front Projection Background System.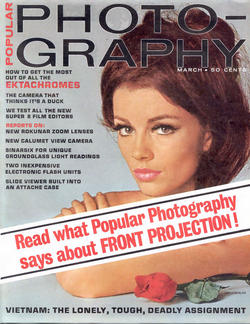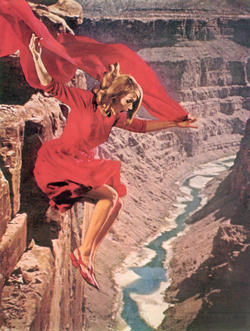 "PUTTING THE GRAND CANYON IN A TINY PHOTO STUDIO"
But that was then and this is now.
It started with two background chroma selection systems. Chroma Key in Television. which was first used by television studios for the news broadcasts. Here a color background was placed behind the presenters. Originally it was a strong shade of blue – thereby giving it the name of the "Blue Screen" background system.
By selectively filtering out the color background – and turning it into what is called an Alpha Channel – another picture or video clip could be presented as if it were part of the original video shot. It is used in every studio today, but often it uses a Green Screen which interferes less with Blue Eyes – and common clothing colors.
Digital photography has simplified the entire process
Although this started with analog TV – and it worked quite well, but often with "tearing" at the interface between actor and background – it works brilliantly with the new sophisticated digital video systems and is the mainstay of the TV world. In other words – any place can be placed anywhere at any time in any studio.
AND – it can be viewed and captured in real time.
Sodium Screen Bigger, Older, Tougher and much more expensive
This was the technique – which the Disney Studios used for the wonderful movie Mary Poppins and others – which let them combine live action with cartoon characters in motion and in the same scenes.
In fact it was on that huge movie set where Fairchild and I met with Walt Disney and Ub Iworks, who purchased one of our Front Projection System to eliminate the need for this huge, complex and costly studio.
During that same period our Front Projection Background Systems were purchased by TV stations to PROJECT a blue background which was hundreds of times more INTENSE than any painted background which virtually eliminated the tearing effects that were common then.

BUT NOW IS NOW (Have we got it easy!)
TODAY – virtually anyone with a digital still or video camera can add astronomically varied backgrounds any time and any place. Below are a few examples shot in a very SIMPLE office studio taking up virtually no extra space.
The next Chapter – will show all and tell all.