---
THE MIRACULOUS UPDATED SANYO HD2000 CAMCORDER
It's called a "Dual Video and still camera – BECAUSE IT IS!
This is an update of an earlier story on the previous model – HD1000
THE NEW SANYO XACTI HD2000 IS A TINY "DAVID" OF A TRUE HIGH DEFINITION CAMCORDER THAT FITS IN YOUR POCKET OR PURSE AND CAN BEAT THE STUFFING OUT OF MANY GOLIATH HD CAMERAS.
It may be one of the best new camcorders in the world.
By George Margolin
, Editor,editor@netsurfernews.com
Former Technical Editor of Popular Photography
Inventor of the Front Projection Motion Picture Background System used in dozens of Hollywood and foreign films and portrait studios around the world
THE PATH TO DISCOVERY -- One of the joys of being a journalist at CES is that you get invitations to some very interesting parties and product presentations. At one of the big CES parties - with some of the best vendors and the latest technology AND – of course some of the finest finger food on the planet. Yet great food is the least of the virtues, because this is where I found the Sanyo booth – manned by a sharply dressed Sanyo Executive, Tom Van Voy and his enthusiastic staff. They were demonstrating what looked like very clever TOYS – that SEEMED to be taking High Definition Videos. These turned out to be Sanyo's line of pistol-gripped, ergonometric-ally designed, amazingly compact and insanely versatile video camcorders. A group that consisted of low cost "normal" digital video shooters, true waterproof (to 5 feet) extreme camcorders -- all the way up to the most drool-worthy, Sanyo Xacti HD1000 camcorder that was the predecessor of the HD2000 that I'm reporting on here.
For starters, the HD2000 is possibly the lightest of the new "Prosumer" Flash Memory High Definition Camcorders. It is also the "handiest" ones to hold while "shooting", with its pistol-like angled grip for a steady and secure shooting position.
It's also a direct TRUE PROGRESSIVE recording HI DEF camcorder/camera to stash in your pocket, purse, camera bag or fanny pouch (my choice).
Since I've discovered it, it's been my constant companion – ready to "film" full high definition video, anywhere at any time at any place..
Since I got the first model HD1000, and later the HD1010 and NOW the magnificent HD2000 -- I've put them through their paces at concerts, Bluegrass and Irish festivals, along with a live shoot from the audience of the unbelievable Peking Acrobats, I've also done a series of easy and quick interviews with them. Because of their beautiful 1080 X 1920 High Definition Blu-Ray quality, I was able to produce videos and surprisingly good music capture, considering the first of them were done through the built in stereo microphone. Now I've added a tiny shotgun mike and remote lavaliere mikes to extend it's capabilities. And its earlier 8 Megapixel still photos – at 3264 x 2448 pixels and now 12 Megapixel interpolated stills are joys to behold at over 4000 MPx.
Also --- because it has the horsepower to do direct, real time recording of MPEG-4 files, not only can you use virtually any current Video Editing software along with its ability to capture 8 Megapixel stills when not shooting video. And you can get decent 2 Megapixel stills WHILE SHOOTING VIDEO. But, perhaps even more important – the 60 field per second frames can be captured by virtually any current video viewing or editing program – and with their 1080 X 1920 Pixel resolution – each frame can make an excellent still, as you'll see from some of our illustrations..
Within the past few months – I've been officially videotaping (or flash carding) two of the Gubernatorial candidates in California. My old friend Tom Campbell and five time Congressman and Meg Whitman former President of EBay.
We'll show you samples of these features with clickable hypertext.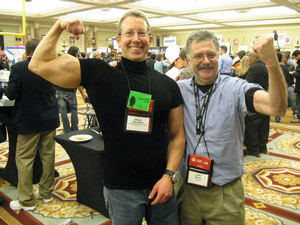 Do I LIKE this little wonder? NO — I LOVE it! So I can enthusiastically report that this Pocket Full of Miracles, Sanyo Xacti HD2000 camcorder – is a combination High Definition Video AND high quality 8 Megapixel still camera, that would be welcome in the pockets. purses and/or camera bags of virtually any and all professional and amateur photographers, videographers TV crews, world travelers, vacationers, National Geographic staffers and stringers, real estate agents, journalists, photo-journalists, reporters and correspondents, young mothers and fathers and doting grandmothers and grandfathers. If I left anyone out – it was unintentional.
INTERVIEWS ARE A NATURAL FOR THIS LITTLE WONDER
Using a small and pocket-able table tripod – available in virtually any camera store for about $15 – you can set your Sanyo up on a desk or table anywhere – aim it and turn it on or off with the less-than-credit-card-sized controller.
Q Is the Sanyo Xacti HD2000 the most portable, practical and versatile combo HD Video/8 MB Still Camera in the world today?
A I know of nothing that can match it for its beautifully INTEGRATED COMBINATION of features. While there are many excellent new Flash Drive cameras from Canon, Sony, Panasonic, Samsung and others, with equal or perhaps better features or abilities – This Xacti Sanyo HD2000 has, by FAR, the best integration, size, form factor and operability, of any camera I've ever used. I would actually congratulate the designers and producers of this little marvel – because they really got it RIGHT.
Q What are the features that make it so versatile and useable?
A Fits in a pocket, purse or small bag or fanny pouch
-- weighs only about 11 Oz – including battery
-- 10X Excellent Optical zoom, now extended o 16X with a little magical interpolation –
plus (YUCH!) – lots of "please don't use it" Digital zoom.
-- accepts screw-on wide angle and tele lenses
– Macros in an INSTANT without need for setup, muss, fuss or bother
– Full HD 1080P PROGRESSIVE 60 Frames per Second video resolution
– excellent 8 and 12 Megapixel stills
– electronic image stabilization for both videos and stills
– huge range of sensor sensitivity (from ISO 50 to 3200 for when you've got to get a shot despite the increased "noise" of the image, since a Shot Got is better than an Shot Not Got
-- Pop up Flash for high quality 8 and 12 Megapixel stills at night and for filling in backlit sunshine shots
– pistol grip design for secure handling and shooting
– switches empty flash cards and batteries in mere seconds
--Longer battery life
--higher resolution with direct progressive files
LARGE selection of resolutions for uses as YouTube files to full Blue-ray
--external mic and earphone plug-ins
--fast direct-to-computer file transfer -- generally 5 minutes for 1 hr files
– no slow-to-transfer tape
– no bulky/heavy hard drive
– uses standard SD and SDHC (High Capacity) flash memory cards to 32 GB, which will give shooting times of 1Hr plus at full HD with and up to 5 hours at a variety of lower resolutions OR over 3000 8 Megapixel stills
– can record sound-only for OVER 130 HOURS!!!!!!!!
-- built-in Accessory Shoe (not hot) for remote or high quality stereo mics or remote lavaliere mic receiver or lights
-- excellent 2.7 Inch screen
–- excellent thumb accessible and very convenient, "ergonometric" toggle switch for controls and feature selection from screen display
– no noise because it has no moving parts except for zoom and auto-focus
– FULL MANUAL CONTROLS to satisfy the "techiest" (like me) among us
– all files saved to compact MPEG 4 /H.264, which is very compact and can be directly read and played and instantly edited without need for conversion on virtually all current Video Processing Software including Pinnacle Studio 12, Power Director, Adobe Premier Elements Ver.7, and all the higher level professional editing software
-- you can pull out the partially filled SD card at any time
– save and/or edit any portion and instantly pop it back into the Sanyo HD1000 for further shooting
– small and versatile docking station permits direct connections to computers and HD Monitors, and TV sets
Whew!!! That's a lot of hot for such a cool little camcorder, but that's what it is and that's what it does. To use it is to love it. And for me, it's my favorite travel companion, along with my wife, of course.
More Questions and answers --
Q Why are the new Sanyo video cameras shaped like pistols?
A For the same reason that Pistols are shaped like pistols
– easy and secure handling, ergonometric ease of aiming, pointing, shooting
– greatest possible stability for a hand-held device with one or two hands – avoids the contortions "standard shaped" video cameras require for steady shooting.
Q Who would benefit by having this camera?
If you don't have a camera with you – you can't capture spontaneous, important and newsworthy events, so anyone who takes pictures for a living or for fun – ESPECIALLY PROFESSIONALS will find it the perfect, discrete backup camera. In a way it's like a Cop who might carry a BIG gun in his holster, but might also have a small backup pistol hidden on his ankle.
. To summarize – the Sanyo Xacti HD2000, is a simple and excellent point and shoot automatic camcorder for ease of use by the least sophisticated user. But it also has a full arsenal of Manual controls of virtually all functions for those situations where they will improve image capture in the hands of "pro-sumers" and Professionals who MUST capture important images.
This is the PERFECT SAFETY NET to carry with you, even if you are loaded with large, broadcast quality, professional equipment. If all else fails – This little Sanyo Xacti HD2000 will get you extremely high quality video that could cover you in the event that the "professional" equipment can't, because of it size, weight, complexity or failure. And it can be used in tight places where larger cameras can't.
You can think of the Sanyo Xacti HD2000 as a parachute, only safer – since you don't have to be going down in flames to take advantage of it. It can truly be a life saver of a camera.
To borrow from an old American Express commercial – " DON'T LEAVE HOME WITHOUT IT!" I never do.
EPILOG
In 2000 (just 10 years ago) I wrote an article for a Videographer magazine – about a camera I found at the now defunct COMDEX show that the CES show has replaced.
This was called the Sharp "Internet View Camera" and was a trifle smaller and about 2 ounces lighter than the Sanyo Xacti is. At that time it was a unique, one-of-a-kind camera that sadly didn't evolve. But I'm putting in some paragraphs of that story so that you can see how the story at that time was able to foretell just what this marvelous Sanyo HD2000 would be.
A journalist's trip back 10 years in time. These are the actual quotes from the story. It's almost eerie to see what I thought then and what it has actually come to be, because virtually everything that I wrote and wanted – is just what the Sanyo Xacti HD2000 Camcorder has become:
Story from 2000
---------------------------------------------------------------------------------
"Below we'll tell you what this camera IS and what it ISN'T. But whatever its current limitations -- every time I show it to anyone and take their picture -- and show them the results -- on the spot -- people ask me where they can buy one. This little camera is a turn-on despite some serious current technical limitations. Its tiny size means you can always carry the camera with you and have it ready for instant shooting.
What it is –
A pocket sized, sight, sound and streaming video record keeper.
A journalist's digital scratch pad
A reporters "instant recall"
A pocket tape recorder with imaging capabilities
A fully random access recording device, since it doesn't use tape
A barely adequate but always available snapshot shooter for two hundred eighty eight, 640X480 photos on a 32 MB Smart Card
A unique and very useful product.
A really fun product to use
The FIRST generation of the future of photography and video capture!!!
What it isn't --
A "real" camcorder capable of playing on a large TV screen
A digital camera capable of generating 8X10 photorealistic prints
An MP3 quality stereo sound recorder capable of blasting your eardrums out
A heavy, clunky, hard to park, hard to hold, hard to use Digital Camcorder
A camera that will produce "National Geographic" quality nature pictures and Landscapes
What it will be -- The beginning of the end of "large" Camcorders for consumers
Imaging chips are getting smaller
Imaging chips are getting denser with ever higher resolution
Imaging chips are becoming increasingly more sensitive (faster) for lower light use
Memory chips are growing in capacity while staying the same size or getting smaller
Memory devices like the IBM Microdisk, which is already 340 MB -- will quickly increase in capacity to multi gigs in a Flash Memory format -- with the disk itself, the size of a quarter -- and smaller.
Camera electronics will greatly increase in speed and capability permitting greater and faster compression for storage and decompression for viewing
True Camcorder/Digital Still cameras with hours of SVHS (or greater) quality in a device the size of this Sharp device.
In Short -- This device or its descendents will merge and meld with Palm Pilot-like hand held computers and become the EYES and EARS of computing cell phones and GPS (Global Positioning Satellite) devices, capable of two way wireless communication. This convergence is happening NOW and will be available within the next few years.
It's all converging. It WILL converge. This is just the BEGINNING! The future is coming much faster than you might believe. And for those of us who love Videography -- as I do -- it is going to be a Fantastic Future of Hugely capable Miniature Camcorder-like devices. "
SIDEBAR FOR SHARP INTERNET VIEWCAM ARTICLE
How the Viewcam can "Win you friends And Influence people"
· Face and Place Miniature Memory Machine-- For a reporter, correspondent or writer -- use it at a convention, such as COMDEX or others -- Still picture of the face -- still picture of the place -- Video of comments and information about the face, place and situation. This is the best way I've ever found to Remember, who, what, when and where. It also flatters the people you're talking with.
· Travelers -- When Travelling locally or abroad -- Take a strangers picture -- with a friendly attitude -- make a friend
· Show them that pleasing picture on the camera's screen moments after you take it and you'll impress that new friend
· Shoot a few moments (20 seconds to a minute) of Streaming Video where the person tells you who he/she is and something about themselves or their product or work -- And their email and/or mailing address, and you make an indelible memory for yourself and a BIG impression on them. -- This will give you the information you need to know Where to send a copy of your still picture for follow up and to solidify the new relationship for business or friendship.
NOTE: While these suggestions will work with a few Digital Camcorders, such as the smallest from JVC and some of the more sophisticated small Sony models -- to my current knowledge, NONE of the others is as "pocket portable" as this tiny Sharp camera. Nor does any other offer the size, along with the random access instant search capability of this camera.
(Clearly, however – the Sanyo HD2000 does it all!)
Size of Viewcamera 3 7/32 x 3 17/32 x 1 22/32 (Shirt pocket portable)
Weight 10 oz with battery
SIZE OF THE SANYO Xacti HD2000 -- 3.54 X 4.43 X 2.15 (Jacket pocket portable)
Weight 11 oz with battery
Sanyo website details on the HD2000A